Welcome to MAD Fm Worldwide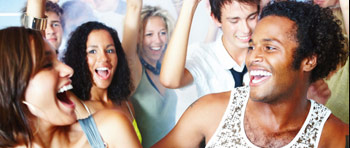 We are Diversity Through Music. Bringing you commercial free, uninterrupted entertainment 24 hours a day. We are champions of all things music, including mainstream, house music, old-time, jazz, disco, funk, rock, indie, and unsigned artists.
OUR DJ's

DBC Saturday Morning Housework resident DJ DBC. With years of experience across multiple genres, he brings you a trademark sound and always plenty of energy...

SIMONE CHIAVISTELLI Every week DJ Chiavistelli selects and mixes the best house music currently playing on Italy's dance floors. Broadcast on over 65 radio stations, This is My House...

IRVIN CEE No precompiled or edited sets, but music from the depths of his soul, featuring house, tech house, techno and electro...

MATT BARKER Resident Deuce Radio Show Host and broadcasting on over 60+ radio stations worldwide, showcasing the best in Indie artists...

DICK LEE Hosting 60s Garage Rock from California, Dick is a founding member of the 60s Garage Rock band, The Brymers...

Laurent Schark Laurent Schark is not only an international DJ, he is also a music producer/remixer. The Laurent Schark selection every week on MAD Sunday Sessions...

DOKTOR@FUNK Always looking for the new rhythms and special editions of deep house and lounge-chilled grooves, deep dark and funky, every week on MAD Sunday Sessions...

MARTIN VAYER Handling all of our stings and annoucements, Martin is a complete vocal talent and an essential member of the DJ team...

JJ Kane Hosting The Quite Great Radio Show, JJ is an accomplished artist and music promotor. Showcasing all that is indie every Thursday...

Sebastien Kills Resident DJ Host of Kills Mix. Bringing you the finest in EDM, direct from the dancefloors of France every week on MAD Pure House Radio...
Aaron Zytle Resident DJ host of The New Music Foodtruck Show and one half of the New Music Food Truck team. Kicking off indie Thursday night every week...
Jim Edwards Resident producer and the other half of the New Music Food Truck team. Creating the musical buffet...

DJ Bastiq Resident DJ host of Energy of Trance Show on MAD Pure House Radio. Bringing you cutting edge progressive, trance and psy trance every week...

Beth Williams Resident DJ host of Beth Williams Indie Americana. showcasing Colorado and Texas songwriters along with other songwriters from around the world...

Alex Negniy Resident DJ host of Trance Air on A Higher State. Every Sunday from 0000 NZT bringing you a high energy trance show direct from the Ukraine...
Stephen Foster Resident DJ host of Direct from Muscle Shoals. Every Thursday night from 2300 NZT, Stephen brings you a selection of new and old indie classics...

Graeme Park Resident DJ host of Long Live House Radio. Every Saturday from 0700 NZT with a mix of soulful, deep and vocal house direct from the Uk...

Drumcomplex Resident DJ host of Drumcomplexed. Every Saturday morning from 0400 NZT, he is one of Germany's most dedicated and experienced techno purveyors...
Mike Rogers Resident DJ host of The Mike Rogers Show. Every Thursday from 1600 NZT featuring cool Japanese, UK and USA rock that you wont hear anywhere else...
Tim Board Resident DJ host of Eye on Jamz. Every Thursday night from 2100 NZT, featuring all genres of the hottest indie music you've never heard...

Cleve Baker Resident DJ host of Confessing the Blues. Every Sunday from 1600 NZT, a rocking roadhouse party from the spiritual home of the blues...

Chuck Mathews Resident DJ host of Greatest Hits USA. Every Friday from 0930 NZT, Chuck plays all of your favorites from the 60s and 70 complete with facts and figures...

Dave Baker Resident DJ host of Hot House Hours with the hottest new house music released over the previous week, part of MAD Pure House Radio from 1700 NZT...

Dimitri K Resident DJ host of Lite Lounge. Every Monday and Thursday from 1400 NZT, playing the smoothest in Jazz and Lounge direct from Olando Florida...

Peter Kirkpatrick Resident DJ host of 50 Years of Pop. Every Tuesday and Friday from 1400 NZT, direct from the UK with pop hits from the last 50 years...
Simon Harding Resident DJ host of The Eurovision Show. Every Tuesday and Thursday from 0900 NZT, celebrating the music of Eurovision past and present...

Ian Davies Resident DJ host of The Rock Block. Every Friday from 1600, direct from the UK featuring classic rock from around the world...

Ken and MJ Resident DJ hosts of The Flower Power Hour. Every Monday, Wednesday and Friday from 0830 NZT, celebrating peace, love, and rock and roll...

Mindflash Resident DJ host of the shows Digital Cocaine and Delicious House Sensations. Top quality house music direct from Germany, twice a week...

Jim Tirey Resident DJ host of Forgotten Retro Radio, playing the songs that make you say - I haven't heard that in forever. Wednesdays from 1400 NZT ...