Our Custom Made Programs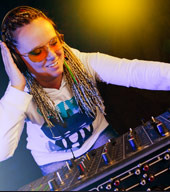 MAD FM DJ SERVICES Here's a great Concept from MAD Fm Worldwide. Like the idea of having a DJ at your party but don't like the cost and hassles?

You know the ones, like the DJ wants you to pay them hundreds then turns up, spends most of their time chatting to your guests, eating your food, drinking your drink, rather than working, then expects full payment and didn't even really play what you wanted or follow your guidelines. Well, we have the answer, MAD Fm Worldwide party streams.



OPTIONS AVAILABLE MAD WORLDWIDE JUKEBOX: MAD Fm Worldwide can run a 2hr personalised show for your party, any time! That's right, you tell us the style you want, give us some 'must play' songs, and we'll handle the rest. Hook into our internet stream, pipe it through your stereo and at the selected date and time we'll program a show especially for you. Shows up to a maximum length of 4 hours can be done.

MAD WORLDWIDE PARTY DJ: MAD Fm Worldwide provides all of the above services in Jukebox, plus a live DJ. That gives you a fully mixed live music show, with commentary and announcements. We can cater for most styles of music, except Top 40 commercial pop, hip-hop and R and B. Tell us your country and time zone, and we'll work out a start date and time for your personal show and send you all the details.
Request Details